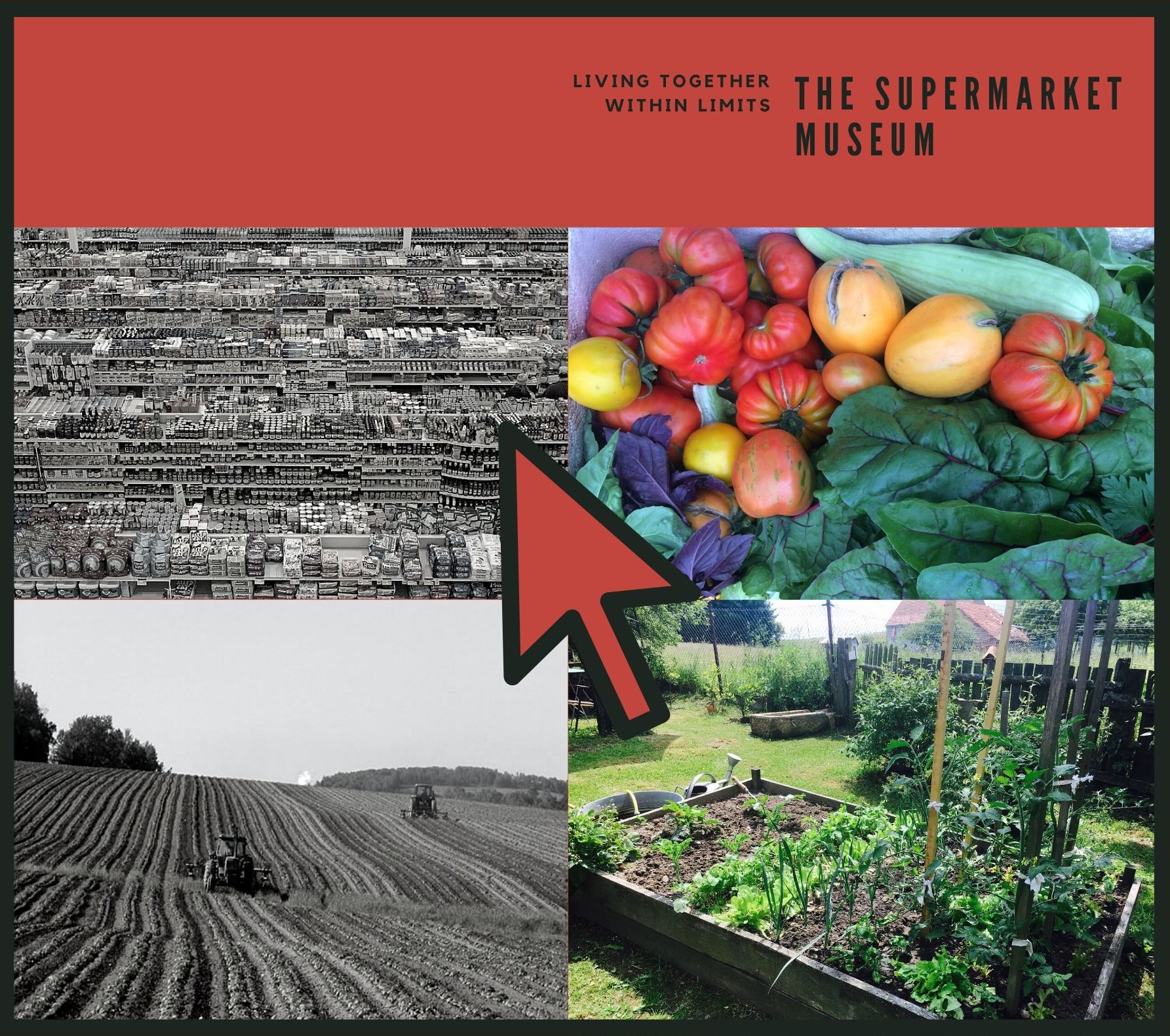 "The Supermarket Museum" je projekt mezinárodní spolupráce neziskových organizací zapojených do činnosti v rámci témat permakultury a agroekologie. Projekt si klade za cíl odpovědět na otázku: "Jak můžeme společně žít v rámci daných limitů?". Skupina sestavena z umělců, zástupců agroekologie a permakultury a dobrovolníků si dala za cíl vytvořit online audiovizuální výstavu "Supermarket Museum".
Během projektu bude zkoumána kultura supermarketu, a to z pohledu jeho pohodlí, monokulturního a ziskem řízeného modus operandi, který ničí sociální, ekonomické a ekologické hodnoty solidarity. Tento projekt posílí myšlenku Evropy jako společného veřejného prostoru, prostoru pro potravinovou soběstačnost, který je místní, a je založen na všeobecných hodnotách lidských práv, přístupu ke zdravým potravinám a rozumného využívání přírodních zdrojů. Projekt řeší i otázky práv pracovníků v supermaketech, mizení místních pěstitelů potravin a obrovský klimatický otisk dlouhých potravinových řetězců.
Systém, ve kterém supermarkety nakládají s potravinami, jeho kulturní, ekonomické a ekologické důsledky jsou nebezpečně křehké a založené na souboru hodnot velmi vzdálených solidaritě:
jeho základní hodnoty zisku, nerespektování místních komunit, nerespektování kulturní a biologické rozmanitosti,
model supermarketů ničí malé zemědělské podniky, monopolizuje místní potravinářské systémy a nerespektuje důstojnost pracovníků, často se vyhýbá placení daní,
produkce a distribuce potravin dlouhého potravinového řetězce, obaly.
Celkem se podílá na projektu pět organizací: Asociación La Bolina ze Španělska, Permaculture z Ukrajiny, Lebende Samen-Living Seeds z Německa, Asociace AMPI z ČR a koordinační organizace-Agro-Perma-Lab Foundation z Polska.
Launching "The Supermarket Museum" project
We have just begun a new partnership, within the project "The Supermarket Museum". The project is an international collaboration of permaculture and agroecology networks, artists and volunteers. 5 organizations take part in the project: Asociación La Bolina from Spain, Permaculture Ukraine, Lebende Samen – Living Seeds from Germany, Asociace místních potravinových iniciativ from the Czech Republic and the coordinating organization – Agro-Perma-Lab Foundation from Poland.
The project aims at answering the question: "how can we live TOGETHER within given limits?" The group of artists, agroecology and permaculture leaders, and volunteers will create an online audio-visual exhibition "The Supermarket Museum". The first "path" in the museum subversively explores and artistically interprets the "supermarket culture": its convenience-, monoculture- & profit-driven modus operandi that wipes out social, economic and ecological solidarity values. Opposing this dominant culture, the second "path" of the museum describes existent successful alternatives – those based on food sovereignty and solidarity.
What is the idea behind The Supermarket Museum?
The project will reinforce the notion of Europe as a shared public space, a space for food sovereignty that is local, but based on universal values of human rights about access to healthy food and using our Earth's resources wisely. By re-imagining local food systems, the project will address the lack of solidarity in supermarket workers' rights, the disappearance of local food growers, and the huge climate footprint of long-chain distribution.
The supermarket food system and its cultural, economical and ecological implications are dangerously fragile and based on the set of values very far away from solidarity:
– its underlying values of profit-making, not respecting local communities, not respecting cultural and biological diversity,
– the supermarket model destroys small farms, monopolizes local food systems and does not respect the dignity of workers, also frequently avoids paying taxes,
– long-chain food production, distribution, and waste issues damage ecologies and health.
More information about the project can be found here. The project is co-financed by European Cultural Foundation.
If you have any questions about the project or you are interested in taking part, write to us.